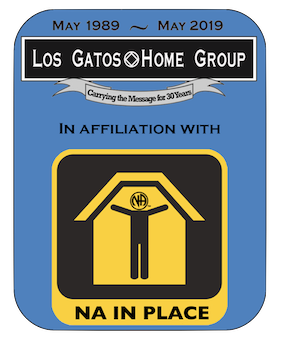 Now more than ever humans need to stay connected, and addicts need meetings.
NA In Place is an online meeting place brought to you by the members of Los Gatos Home Group in Los Gatos California, for humans who are addicts and addicts who are humans to gather and share their experience, strength and hope, and to help carry the NA message to the addict who still suffers.
We hold several online meetings a day using the Zoom video conferencing app.
Meeting Schedule
Prior to the Shelter in Place we held 19 meetings a week at our meeting place in Los Gatos, California. We now hold the same number of meetings online.
Monday through Friday:
6AM, 12 Noon, and 6PM Pacific Time
Saturday and Sunday:
9AM and 6PM Pacific Time
The following four meetings are listed in the global Virtual NA Directory and typically have higher attendance with participants from around the globe:
Tuesday 6am Pacific Time
Thursday 6am Pacific Time
Saturday 6pm Pacific Time
Sunday 9am Pacific Time

Any addict with the desire to stop using is welcome to attend any meeting, wherever you are in your recovery, and wherever you are on the planet.
How it Works
We use the Zoom video conference app which is supported on most tablets, smart phones, and computers. Or if you prefer, all meetings can be joined using a good old fashioned telephone.
Currently all nineteen meetings are accessed with the same Zoom meeting ID.
How to Join
Download the free Zoom app on your smart phone or tablet, enter the meeting ID 526022691 and click Join.
OR
Visit this URL in your browser: https://zoom.us/j/526022691 and follow the prompts
OR
Using your phone dial 1-669-900-6833 then enter meeting ID 526022691#
---